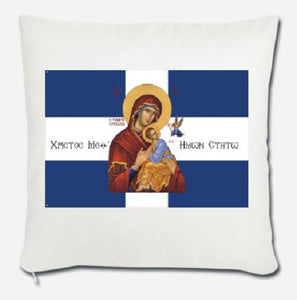 Pillows - Kissen - Μαξιλάρια (EN) Virgin Mary - Christ (The Awesome Protection) - Christ with us (DE) Jungfrau Maria - Christus (Der ehrfürchtige Schutz) - Christus mit uns (GR) Παναγία - Χριστός (Η Φοβερά Προστασία) - Χριστός μεθ ημών στήτω
Regular price €24,00 Sale
Orthodox Pillows - Kissen - Μαξιλάρια
YouTube https://youtu.be/tsX0bKp9_AQ
Prices include shipping - Preise inklusive Versand - Οι Τιμές συμπεριλαμβάνουν και μεταφορικά
(EN)  Pillows Virgin Mary - Christ (The Awesome Protection) - Christ with us
(DE)  Kissen Jungfrau Maria - Christus (Der ehrfürchtige Schutz) - Christus mit uns 
(GR) Μαξιλάρια Παναγία - Χριστός (Η Φοβερά Προστασία) - Χριστός μεθ ημών στήτω
A) 
(ΕΝ) You can have the texts in your language, English or German or Greek. For another Language, write us the exact phrase. 
(DE) Sie können die Texte in Ihrer Sprache, Englisch oder Deutsch oder Griechisch haben. Schreiben Sie uns für eine andere Sprache den genauen Satz.
(GR) Τα κείμενα μπορείτε να τα έχετε κ στην γλώσσα σας , Αγγλικά ή Γερμανικά ή Ελληνικά. Για άλλη Γλώσσα γράψτε μας ακριβώς την φράση.
B)
(EN) CHURCH Pillows 

 If you wish, you can order  2) In any quantity. 3) In any design. 
(DE) KIRCHEN Kissen

 Auf Wunsch können Sie bestellen 2) In beliebiger Menge. 3) In jedem Design.
(GR) Μαξιλάρια ΕΚΚΛΗΣΙΑΣΤΙΚΑ

Αν επιθυμείτε μπορείτε να παραγγείλετε 2) Σε οποιαδήποτε ποσότητα. 3 ) Σε οποιοδήποτε σχέδιο. 
C ) 
(EN) DETAILED MATERIAL SPECIFICATIONS:

Printing: Full 4-color printing on both sides.
Description: Polyester cushion with padding and zipper
Composition: 100% polyester
Details: Print dimension 40X40cm / side

Fully digitally printed pillows with the possibility of different printing / side. The price includes filling.
(DE) DETAILLIERTE MATERIALSPEZIFIKATIONEN:

Druck: Voller 4-Farbdruck auf beiden Seiten.
Beschreibung: Polyesterkissen mit Polsterung und Reißverschluss
Zusammensetzung: 100 % Polyester
Details: Druckmaß 40X40cm / Seite

Vollständig digital bedruckte Kissen mit unterschiedlicher Druck- / Seitenfähigkeit. Der Preis beinhaltet die Füllung.
(GR) ΑΝΑΛΥΤΙΚΕΣ ΠΡΟΔΙΑΓΡΑΦΕΣ ΥΛΙΚΟΥ:

Εκτύπωση: Πλήρη εκτύπωση 4χρωμίας και στις 2 πλευρές.
Περιγραφή: Πολυεστερικό μαξιλάρι με γέμισμα και φερμουρ
Σύνθεση : 100% polyester
Λεπτομέρειες: Διάσταση εκτύπωσης 40X40cm / πλευρά

Πλήρως ψηφιακά εκτυπωμένα μαξιλάρια με δυνατότητα διαφορετικής εκτύπωσης / πλευρά. Η τιμή περιλαμβάνει γέμισμα.