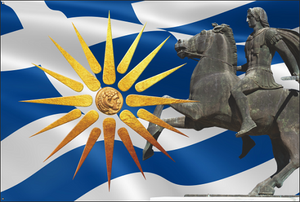 Flags - Flaggen - Σημαίες (EN) Flag MACEDONIA & ALEXANDER THE GREAT (DE) Flagge MAZEDONIEN & ALEXANDER DER GROSSE (GR) Σημαία ΜΑΚΕΔΟΝΙΑ & ΜΕΓΑΣ ΑΛΕΞΑΝΔΡΟΣ (RU) Пометить МАКЕДОНИЯ И АЛЕКСАНДР ВЕЛИКИЙ
Regular price €18,50 Sale
Flags - Flaggen - Σημαίες
Flags - Flaggen - Σημαίες (EN) Flag MACEDONIA & ALEXANDER THE GREAT (DE) Flagge MAZEDONIEN & ALEXANDER DER GROSSE (GR) Σημαία ΜΑΚΕΔΟΝΙΑ & ΜΕΓΑΣ ΑΛΕΞΑΝΔΡΟΣ (RU) Пометить МАКЕДОНИЯ И АЛЕКСАНДР ВЕЛИКИЙ
YouTube https://youtu.be/tsX0bKp9_AQ
Prices include shipping - Preise inklusive Versand - Οι Τιμές συμπεριλαμβάνουν και μεταφορικά - Цены включают доставку
(EN)  Flag MACEDONIA & ALEXANDER THE GREAT
(DE) Flagge MAZEDONIEN & ALEXANDER DER GROSSE
(GR) Σημαία ΜΑΚΕΔΟΝΙΑ & ΜΕΓΑΣ ΑΛΕΞΑΝΔΡΟΣ 
(RU) Флаг Пометить МАКЕДОНИЯ И АЛЕКСАНДР ВЕЛИКИЙ
A) 
(ΕΝ) You can have the texts in your language, English or German or Greek. For another Language, write us the exact phrase. 
(DE) Sie können die Texte in Ihrer Sprache, Englisch oder Deutsch oder Griechisch haben. Schreiben Sie uns für eine andere Sprache den genauen Satz.
(GR) Τα κείμενα μπορείτε να τα έχετε κ στην γλώσσα σας , Αγγλικά ή Γερμανικά ή Ελληνικά. Για άλλη Γλώσσα γράψτε μας ακριβώς την φράση.
(RU) Вы можете иметь тексты на вашем языке, английском, немецком или греческом. Для другого языка напишите нам точную фразу.
B)
(EN) CHURCH FLAGS IN ALL DIMENSIONS

The Ecclesiastical Flags are available in stock in specific dimensions: 50X70cm., 70x100cm., 100x150cm., 120x200cm., 150x250cm. If you wish, you can order any dimension that suits your space, even vertical flags. Fringes, tassels and can be added to the Church Flags from the various accessories available. They can also be made as a banner! The Ecclesiastical Flags are made: 1) In any dimension. 2) In any quantity. 3) In any design. CHURCH FLAGS can also be made to order and with hagiographies that you will not find in our collection.
(DE) KIRCHENFAHNEN IN ALLEN DIMENSIONEN

Die Kirchenfahnen sind in bestimmten Abmessungen auf Lager: 50x70cm, 70x100cm, 100x150cm, 120x200cm, 150x250cm Auf Wunsch können Sie jede Größe bestellen, die Ihrem Raum entspricht, sogar vertikale Fahnen. Fransen, Quasten und können den Kirchenfahnen aus dem verschiedenen erhältlichen Zubehör hinzugefügt werden. Sie können auch als Banner erstellt werden! Die kirchlichen Flaggen werden hergestellt: 1) In jeder Dimension. 2) In beliebiger Menge. 3) In jedem Design. CHURCH FLAGS können auch auf Bestellung und mit Hagiographien angefertigt werden, die Sie in unserer Kollektion nicht finden.
(GR) ΣΗΜΑΙΕΣ ΕΚΚΛΗΣΙΑΣΤΙΚΕΣ ΣΕ ΟΛΕΣ ΤΙΣ ΔΙΑΣΤΑΣΕΙΣ

Οι Εκκλησιαστικές Σημαίες υπάρχουν σε στόκ σε συγκεκριμένες διαστάσεις: 50X70εκ., 70Χ100εκ., 100Χ150εκ., 120Χ200εκ., 150Χ250εκ., Αν επιθυμείτε μπορείτε να παραγγείλετε οποιαδήποτε διάσταση που ταιριάζει στο χώρο σας, ακόμη και κάθετες σημαίες. Στις Εκκλησιαστικές Σημαίες μπορούν επίσης να προστεθούν κρόσσια, φούντες και να παραγγείλετε από τα διάφορα αξεσουάρ που υπάρχουν. Επίσης μπορούν να κατασκευαστούν και σαν λάβαρο! Οι Εκκλησιαστικές Σημαίες κατασκευάζονται: 1) Σε οποιαδήποτε διάσταση. 2) Σε οποιαδήποτε ποσότητα. 3 )Σε οποιοδήποτε σχέδιο. ΣΗΜΑΙΕΣ ΕΚΚΛΗΣΙΑΣΤΙΚΕΣ επίσης μπορούμε να κατασκευάσουμε κατόπιν παραγγελίας και με αγιογραφίες που δεν θα βρείτε στη συλλογή μας.
(RU) ЦЕРКОВНЫЕ ФЛАГИ ВО ВСЕХ РАЗМЕРАХ

Церковные флаги доступны на складе в определенных размерах: 50x70 см., 70x100 см., 100x150 см., 120x200 см., 150x250 см. При желании вы можете заказать любой размер, который подходит для вашего помещения, даже вертикальные флаги. Бахрома, кисточки и другие аксессуары могут быть добавлены к церковным флагам из различных доступных аксессуаров. Они также могут быть сделаны в качестве баннера! Церковные Флаги изготавливаются: 1) В любом измерении. 2) В любом количестве. 3) В любом дизайне. ЦЕРКОВНЫЕ ФЛАГИ мы также можем изготовить на заказ и с агиографиями, которых вы не найдете в нашей коллекции.
C ) 
(EN) DETAILED MATERIAL SPECIFICATIONS:

High quality 1440dpi print, tetrachrome.
The flagplate is triple knitted 115gr / ™, 100% polyester
The double seams are made with high-strength polyester threads
The colors are indelible, ecological based on EEC directives and the flags are machine washable at 40 ° C
The product is delivered sewn with straps and stainless steel trunks.
To achieve the maximum result we use a special series of machines where the fabric is coated, printed and passed through special steaming ovens.
(DE) DETAILLIERTE MATERIALSPEZIFIKATIONEN:

Hochwertiger 1440 dpi Druck, tetrachrom.
Die Fahnenplatte ist dreifach gestrickt 115gr / ™, 100% Polyester
Die Doppelnähte bestehen aus hochfesten Polyesterfäden
Die Farben sind unauslöschlich, ökologisch nach EWG-Richtlinien und die Fahnen sind maschinenwaschbar bei 40°C
Das Produkt wird genäht mit Riemen und Edelstahl geliefert.
Um das maximale Ergebnis zu erzielen, verwenden wir eine spezielle Reihe von Maschinen, bei denen der Stoff beschichtet, bedruckt und durch spezielle Dampföfen geleitet wird.
(GR) ΑΝΑΛΥΤΙΚΕΣ ΠΡΟΔΙΑΓΡΑΦΕΣ ΥΛΙΚΟΥ:

Υψηλή ποιότητα εκτύπωσης 1440dpi , τετραχρωμία.
Το σημαιόπανο είναι τριπλής πλέξης 115gr/™ ,100% polyester
Οι διπλές ραφές, γίνονται με πολυεστερικές κλωστές υψηλής αντοχής
Τα χρώματα είναι ανεξίτηλα, οικολογικά βάση οδηγιών της ΕΟΚ και οι σημαίες πλένονται στο πλυντήριο στους 40°C
Το προϊόν παραδίδεται ραμμένο με ιμάντες και ανοξείδωτα τρουξ.
Για να επιτευχθεί το μέγιστο αποτέλεσμα χρησιμοποιούμε μια ειδική σειρά μηχανημάτων όπου το ύφασμα επιστρώνεται, εκτυπώνεται και περνάει από ειδικούς φούρνους ατμίσματος.
(RU) ПОДРОБНЫЕ ХАРАКТЕРИСТИКИ МАТЕРИАЛОВ:

Высококачественная печать 1440 dpi, четыре цвета.
Флагшток тройной вязки 115гр/тм, 100% полиэстер
Двойные швы выполнены высокопрочными полиэфирными нитями.
Цвета несмываемые, экологичные в соответствии с директивами ЕЭС, а флажки можно стирать в машине при температуре 40 ° C.
Изделие поставляется сшитым с ремнями из нержавеющей стали.
Для достижения максимального результата мы используем специальную серию машин, где ткань наносится, печатается и проходит через специальные печи для пропаривания.
Flags - Flaggen - Σημαίες (EN) Flag MACEDONIA & ALEXANDER THE GREAT (DE) Flagge MAZEDONIEN & ALEXANDER DER GROSSE (GR) Σημαία ΜΑΚΕΔΟΝΙΑ & ΜΕΓΑΣ ΑΛΕΞΑΝΔΡΟΣ (RU) Пометить МАКЕДОНИЯ И АЛЕКСАНДР ВЕЛИКИЙ