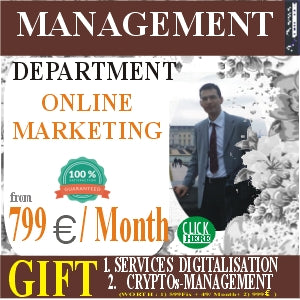 Management of the ONLINE MARKETING department from 799 euros / month
Regular price €1.500,00 €799,00 Sale
Management of the ONLINE MARKETING department from 799 euros / month
WHAT THE OFFER CONTAINS
Management of the ONLINE MARKETING department from 799 euros / month
It costs from 799 euros / month. I take over full services for the online marketing of your company and you don't have to think about anything else in this sector. Even if you do not have a marketing department, the needs of the time, survival and development needs in the future mean that you will have to deal with a separate online marketing department for business development and sales. Traditional marketing methods are in decline. Anyone who does not deal scientifically and professionally with online marketing will be lost in the years to come. The sector has developed strongly and includes many services. Briefly included in the titles: 1) Online Marketing Plan and Developing an Online Website Plan that aligns with your company's marketing and business plan (after you first let us know). 2) The implementation of the plan to which the services will belong according to the new data of the times as in the present time for: Automatic Online Marketing, Affiliate Marketing, Digitization of Services, Crypto Services, Online Network Marketing, New Online Promotional materials, social media advertising, online funding, etc. 3) Continuous optimization and redesign of the program. For the details of my services I will inform you better in a personal communication. The cost is 799 euros per month + 0.3-0.5% of the online sales I will make or some other percentage that we will agree to... Are you interested in my proposal? Contact me and find out more. Learn How To See (Video) 
HOW IS THE PROCEDURE DONE?
1. CONTACT. I will get in touch with you within 1-2 working days by email or other media such as FB, Skype, WhatsApp, depending on your communication skills. There I ask you for additional information and materials that I can use to create the website, the partner, the banner, the automation, etc. In addition to your company data, etc. I will receive a logo, photo texts and a. Account so that I can create it in the following email .., 
Email : abraam.skenteridis@gmail.com
More INFO on my website HERE ,  und YouTube HERE.
This sale has to do with, Management of the ONLINE MARKETING department from 799 euros / month