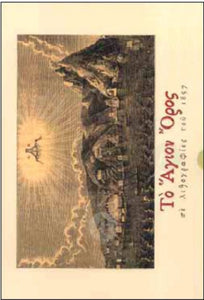 Mount Athos in Lithographs of 1857 - Greek Orthodox Christian Books - Το Άγιον Όρος σε Λιθογραφίες του 1857 - Гора Афон в литографиях 1857 г. - Berg Athos in Lithographien von 1857 Греческие православные христианские книги Orthodoxe Bücher
Regular price €54,90 Sale
Mount Athos in Lithographs of 1857 - Greek Orthodox Christian Books - Το Άγιον Όρος σε Λιθογραφίες του 1857 - Гора Афон в литографиях 1857 г. - Berg Athos in Lithographien von 1857 Греческие православные христианские книги Orthodoxe Bücher
Orthodox Books - Mount Athos Books Berg Athos Bücher Άγιον Όρος Biblöia
FREE Shipping) Free - Kostelose - Δωρεάν - Бесплатная доставка
Shipments Worldwide  Sendungen weltweit  Αποστολές Παγκόσμια  Доставка по всему миру
(Europe - choise if you live in Central , West and South Europe, as in Germany, France, Italy, ....)
(Rest World - choice if you live in East Europe and Rest World, as i Russia, USA, Australia, India, China, Tourkey ... )
(EN) Please contact us and write to us for assurance on availability, before you buy something, HERE. Thanks
(DE) Bitte kontaktieren Sie uns und schreiben Sie uns, um die Verfügbarkeit abzusichern, bevor Sie etwas kaufen, HIER. Danke
(RU) Пожалуйста, свяжитесь с нами и напишите нам для подтверждения наличия, прежде чем что-то покупать, ЗДЕСЬ. Спасибо
(GR) Παρακαλώ επικοινωνήστε κ γράψτε μας στο για σιγουριά για διαθεσιμότητα, προτού αγοράσετε κάτι , ΕΔΩ. Ευχαριστώ 
Videos - Physical Products (Icons, Crosses, Flags, Greek Books etc)
Show Live Products ) My YouTube and Video Channel CLICK HERE
Show Live Produkten ) Meine YouTube und Video Channel KLICK HIER
Videos - Digital Products (Ebooks, Kurse, My Services, etc.)
Show Live Products ) My YouTube and Video Channel CLICK HERE
Show Live Produkten ) Meine YouTube und Video Channel KLICK HIER
 A) General information - Allgemeine Information - Главная Информация  - Γενικές Πληροφορίες 
Greek Orthodox Christian Books & CD Griechische Orthodoxe Christliche Bücher & CD Ελληνορθόδοξα Χριστιανικά Βιβλία & CD Греческие православные книги и компакт-диски
(EN) We accept Orders for any Product in any form, such as Icons Hagiographed by well-known Hagiographers, handmade wood-carved Crosses etc. Books or CDs that we have not put here on the Website and many other Products - Write us what you want and we will find it etc
(DE) Wir akzeptieren Bestellungen für jedes Produkt in jeglicher Form, wie z. B. von bekannten Hagiographen Hagiographierte Ikonen, handgefertigte holzgeschnitzte Kreuze usw. Bücher oder CDs, die wir hier nicht auf die Website gestellt haben und viele andere Produkte - Schreiben Sie uns, was Sie wollen und wir finden es usw.
(GR) Δεχόμαστε Παραγγελίες για οποιοδήποτε Προϊόν σε οποιαδήποτε μορφή, όπως Εικόνες Αγιογραφημένες από γνωστούς Αγιογράφους, χειροποίητα ξυλόγλυπτους Σταυρούς, Βιβλία ή CD που δεν τα έχουμε βάλει εδώ στην Ιστοσελίδα και πολλά άλλα Προϊόντα -Γράψτε μας τι θέλετε και εμείς θα το βρούμε κλπ
(RU) Мы принимаем заказы на любой продукт в любой форме, например, иконы с агиографией известных агиографов, ручные резные кресты из дерева и т. Д. Книги или компакт-диски, которые мы не размещали здесь на Веб-сайте, и многие другие продукты - Напишите нам, что вы хотите, и мы найдем это и т. Д.
Orthodox Crosses Orthodoxe Kreuze Ορθόδοξοι Σταυροί Православные кресты
Authentic handmade creation of monks of Mount Athos.
Authentische handgefertigte Kreation von Mönchen des Berges Athos.
Аутентичное творение монахов Афона ручной работы.
Αυθεντική χειροποίητη δημιουργία μοναχών του Αγίου Όρους.
B) Making herstellung Строительство Κατασκευή
(ΕΝ) Pages - Lithographs 20
Dimensions 16x18
(DE) Seiten - Lithographien 20
Abmessungen 16x18
(RU) Страницы - Литографии 20
Размеры 16х18
(GR) Σελίδες - Λιθογραφίες 20
Διαστάσεις 16Χ18
C) Contents - Inhalt - Περιεχόμενα- СОДЕРЖАНИЕ
(ΕΝ) Pages - Lithographs 20
Dimensions 16x18
(DE) Seiten - Lithographien 20
Abmessungen 16x18
(RU) Страницы - Литографии 20
Размеры 16х18
(GR) Σελίδες - Λιθογραφίες 20
Διαστάσεις 16Χ18
Mount Athos in Lithographs of 1857 - Greek Orthodox Christian Books - Το Άγιον Όρος σε Λιθογραφίες του 1857 - Гора Афон в литографиях 1857 г. - Berg Athos in Lithographien von 1857 Греческие православные христианские книги Orthodoxe Bücher